Product Information
LAVENDER ESSENTIAL OIL
You will almost certainly need no introduction to the wonderfully sweet, floral, and herbaceous aroma of AWO's pure Lavender Essential Oil.
Perhaps the most well-known of the essential oils and for good reason, the benefits of Lavender Essential Oil are incredibly versatile and because of this, Lavender Oil is a valued ingredient in everything from cosmetic and skin care products to aromatherapy applications.
Above all, the benefits of Lavender Essential Oil are primarily known to be a relaxing, calming oil, helping to relieve feelings of stress, irritability, and nervous tension.

Lavender Essential Oil has also shown to have a sedative effect, and therefore is known to be one of the best essential oils for sleep, helping to calm the mind and promote a peaceful nights sleep.

The naturally occurring antioxidant, antibacterial and anti-inflammatory properties make Lavender Oil incredibly beneficial for skin, especially for those struggling with Acne and breakouts.

Has also shown benefits in improving other skin complaints such as eczema, psoriasis, scarring and wrinkles.

Its anti-inflammatory and analgesic properties can provide a pain-relieving and numbing effect.

Not to mention, research shows that Lavender Essential Oil is safe to use on children, adults, and the elderly.
Lavender Oil Key Benefits:
Encourages relaxation & sleep

Acts to calm nerves, stress & anxious thoughts

May help to regulate sleep patterns

Anti-inflammatory & antioxidant properties

Antibacterial & Antifungal action

Beneficial for skin irritations like acne, eczema & psoriasis

Known to help reduce fine lines & wrinkles

Helps to repel insects, as well as soothing insect bites
Lavender Oil Therapeutic Properties:
Antioxidant, Antibacterial, Anti-fungal, Anti-inflammatory, Analgesic, Immune Support, Relaxant, Sedative

Lavender Oil General Uses:
Aromatherapy, Massage Oil, Meditation & Yoga, Personal Care, Skincare, Household, Fragrance

Lavender Oil Emotional Benefits:
Calming, Balancing, Harmonising, Meditative, Regulating, Relaxing, Spiritual
Lavender Oil Blends Well With:
Citrus oils such as Sweet Orange and Bergamot, as well as Cedarwood, Clary Sage, Cypress, Peppermint, Rosemary, Rose Geranium and Tea Tree

How to use Lavender Essential Oil
Diffuse: Add a few drops to an aromatherapy diffuser or electric vaporiser and let the calming aroma of Lavender Essential Oil fill your environment.
Topically: Dilute a few drops of Lavender Oil into a carrier oil, massage oil, or moisturiser to soothe sore, tight and fatigued muscles.
See topical dilution guide below for safe topical application

Bath: Add a few drops of Lavender Essential Oil to a warm bath to promote relaxation and a good nights rest.
On The Go: Add 4-6 drops of Lavender Oil to a 15ml roller bottle and top with Fractionated Coconut Oil to create an on-the-go calming roller blend.
Fast Remedy: Add 1-2 drops of Lavender Oil to a tissue and inhale at a distance while ensuring that the oil does not come into direct contact with your skin. Alternatively, you can smell the oil directly from the bottle!
Topical Dilution Guidelines
Please note that the following guidelines are recommended for healthy adults:
General Use: 2 – 4% dilution (4 – 8 drops per 10ml)
Facial Application: 1 – 2% dilution (2 – 4 drops per 10ml)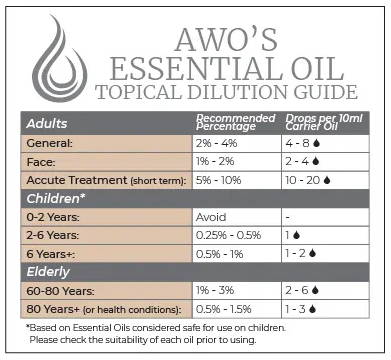 Botanical Name: Lavandula angustifolia (Miller)
Other Names: Lavender Bulgarian Essential Oil
INCI Name: Lavandula angustifolia Oil
Cas Number: 8000-28-0
Family: Lamiaceae

Ingredients: 100% Lavandula angustifolia Oil
Plant Part: Flower
Method of Extraction: Steam distillation
Appearance: Thin, clear liquid
Colour: Colourless to pale yellow
Country of Origin: Bulgaria

Key Constituents: Linalyl acetate, Linalool
Aroma: Floral, sweet, herbaceous
Note: Top/Middle
Lavender Essential Oil Safety
Essential oils are extremely potent and can cause serious harm if used incorrectly.

In line with the Therapeutic Goods Act, we do not recommend ingesting essential oils without the guidance of a registered Aromatherapist or Naturopath.

Essential oils should be kept out of reach of children and pets.

Avoid using essential oils during pregnancy and whilst breastfeeding.

Essential oils are very concentrated and are likely to cause irritation or reactions if applied directly to the skin. For this reason, we recommend diluting your essential oils before using topically (on the skin).
Buy Lavender Oil Online
Extracted from the flowering tops of the Lavandula angustifolia plant, AWO's 100% pure Lavender Essential Oil is obtained using the steam distillation method, ensuring its purity and therapeutic benefits. It's soft floral aroma makes it ideal for promoting relaxation, calming the mind and body, and encouraging a peaceful nights sleep. AWO is an Australian supplier of pure essential oils, offering quality products at affordable prices, we also offer bulk and wholesale pricing. For those wanting to purchase quality essential oils you can buy online today. We also offer shipping Australia wide!
100% Pure & Natural
Our products are ethically sourced from the highest quality ingredients.
No GMO's Or Synthetics
This product is free from genetically modified organisms and synthetic enhancers.
Not Tested On Animals
We are proud to ensure that our products are not tested on animals.
Vegan Friendly
This product is plant based and vegan friendly.
Recyclable Packaging
We are dedicated to providing eco-friendly, recyclable packaging.
Dangerous Goods Notice:
This item cannot be shipped overseas or via express within Australia as it is classified as a Dangerous Good for shipping purposes.