Description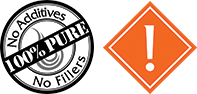 100% Pure Turpentine Essential Oil
With its characteristically camphoraceous, intense, spicy dry and earthy aroma, the warming aroma of AWO's Turpentine Essential Oil will no doubt be familiar to you. Turpentine oil has been used down the centuries for its many therapeutic applications.
Turpentine Essential Oil is used in numerous lotions and ointments for sore muscles, sprains and other aches and pains. Plus it can be helpful in easing the symptoms of colds and coughs.
You can also use Turpentine Essential Oil as an insect repellent.
Note: Use with caution!
Turpentine Essential Oil blends well with Bergamot, Cypress, Eucalyptus, Frankincense, Grapefruit, Juniperberry, Lavender, Lemon, Peppermint and Tea Tree essential oils.
Botanical Name: Pinus pinaster
Plant Part: Pine Resin
Method of Extraction: Steam Distillation
Safety: May irritate the skin and mucous membranes. When inhaled, large doses can cause breathing difficulties and depress the central nervous system. Strictly not to be ingested or used during pregnancy.

Flammable Liquid: Road transport only. Additional freight time and cost may apply. International shipping not available on this item.