Product Information
Native to the Maluku Islands in Indonesia, the powerfully penetrating Clove Bud Essential Oil, also known as Clove Essential Oil, is renowned for its anti-inflammatory, antimicrobail and antiseptic benefits, due to its dominating constituent, eugenol.
Clove Bud essential oil carries a powerful spicy, woody aroma with a somewhat sweet undertone that is familiar in aromatherapy.
One of the top uses for Clove Oil is in the home for controlling mould issues, due to its natural ability to kill and remove mould spores

Clove Oil is also known to help ease respiratory infections.

In medicinal topical applications the benefits of Clove Essential Oil have also been known to assist in the treatment of wounds, cuts and fungal infections such as athlete's foot.

When combined with a carrier oil Clove Essential Oil makes a fantastic massage oil due to its analgesic properties - plus it's also been seen to help improve blood circulation

It can also be used to create an effective insect repellent.

Clove Oil can also be added to any existing skin care products to boost their benefits.
Clove Bud Oil Key Benefits:
Effective for mould reduction

Helps to kill bacteria & germs

Beneficial for respiratory infections

May also assist with asthma & coughs

Known to help improve blood circulation

Helps to heal minor cuts & wounds

Can also help to combat fungal infections

May enhance focus, concentration & memory recall

Often used to repel bugs and insects
Clove Bud Oil Therapeutic Properties:
Analgesic, Antibacterial, Antiseptic, Anti-fungal, Anti-inflammatory, Anti-microbial, Immune Support, Respiratory Aid

Clove Bud Oil General Uses:
Aromatherapy, Household Cleaning, Massage, Meditation & Yoga, Personal Care, Insect repellent products
Clove Bud Oil Emotional Benefits:
Clarifying, Energising, Harmonising, Stimulating, Uplifting
Clove Bud Oil Blends Well With:
Cardamom, Lemon, Orange Sweet, Peppermint and Rosemary Essential Oils

How to use Clove Bud Essential Oil
Diffuse: Add a few drops to an aromatherapy diffuser or electric vaporiser and let the spicy aroma of Clove Bud Essential Oil fill your environment.
Topically: Dilute a few drops of Clove Bud Oil into a carrier oil, massage oil, or moisturiser to soothe sore, tight and fatigued muscles.
See topical dilution guide below for safe topical application
Foot Spa: Add a drop or two of Clove Bud Essential Oil to a pool of warm water before soaking your feet.
Insect Repellent: Add 4-6 drops of Clove Bud Oil to a 15ml roller bottle and top with Fractionated Coconut Oil to create an on-the-go natural insect deterrent.
Fast Remedy: Add 1-2 drops of Clove Bud Oil to a tissue and inhale at a distance while ensuring that the oil does not come into direct contact with the skin. Alternatively, you can smell the oil directly from the bottle!
Topical Dilution Guidelines
Please note that the following guidelines are recommended for healthy adults:
General Use: 2 – 4% dilution (4 – 8 drops per 10ml)
Facial Application: 1 – 2% dilution (2 – 4 drops per 10ml)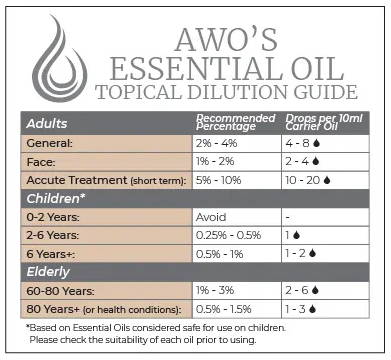 Botanical Name: Eugenia caryophyllata
INCI Name: Eugenia caryophyllus flower Oil
Cas Number: 84961-50-2 / 8000-34-8
EINICS Number: 284-638-7
Family: Myrtaceae

Ingredients: 100% Eugenia caryophyllata Oil
Plant Part: Dried flowering tops / buds
Method of Extraction: Steam distillation
Appearance: Mobile liquid (slightly viscous)
Colour: Yellow to light Brown
Country of Origin: Indonesia / India

Key Constituents: Eugenol, eugenyl acetate, beta-caryophyllene
Aroma: Spicy, woody, somewhat sweet
Note: Middle
Clove Bud Essential Oil Safety
Essential oils are extremely potent and can cause serious harm if used incorrectly.

In line with the Therapeutic Goods Act, we do not recommend ingesting essential oils without the guidance of a registered Aromatherapist or Naturopath.

Essential oils should be kept out of reach of children and pets.

Avoid using essential oils during pregnancy and whilst breastfeeding.

Essential oils are very concentrated and are likely to cause irritation or reactions if applied directly to the skin. For this reason, we recommend diluting your essential oils before using topically (on the skin).
Buy Clove Bud Oil Online
Extracted from the dried buds of the Eugenia caryophyllata tree, AWO's 100% pure Clove Bud Essential Oil is obtained using the steam distillation method, ensuring its purity and therapeutic benefits. It's warm, spicy aroma and vast therapeutic benefits make it ideal for various home and body applications. AWO is an Australian supplier of pure essential oils, offering quality products at affordable prices, we also offer bulk and wholesale pricing. For those wanting to purchase quality essential oils you can buy online today. We also offer shipping Australia wide!
100% Pure & Natural
Our products are ethically sourced from the highest quality ingredients.
No GMO's Or Synthetics
This product is free from genetically modified organisms and synthetic enhancers.
Not Tested On Animals
We are proud to ensure that our products are not tested on animals.
Vegan Friendly
This product is plant based and vegan friendly.
Recyclable Packaging
We are dedicated to providing eco-friendly, recyclable packaging.
Dangerous Goods Notice:
This item cannot be shipped overseas or via express within Australia as it is classified as a Dangerous Good for shipping purposes.